LEAWOD Windows & Doors Group Co., Ltd was established in 2000 and has more than 20 years of experience in door and window R&D and production.
LEAWOD has excellent and leading R&D capabilities and production capabilities. Over the years, we have continuously improved our technology, spent a lot of resources, and introduced the world's most advanced production equipment, such as Japanese automated spraying lines, Swiss GEMA aluminum alloy overall coating lines and dozens of other advanced production lines. Wood-aluminum composite doors and windows all use global high-quality wood and high-quality hardware accessories. Our product quality is stable and reliable, and high-end and cost-effective. And obtain relevant industry certificates and certifications, such as: NFRC&CSA certification, IF, Red dot, etc.
Up to now, LEAWOD has opened nearly 600 stores in China. According to the plan, 2,000 stores will be opened in the next five years. To connect the Chinese and global markets, we established a branch in the United States in 2020. And agency in Vietnam,Canada. Due to the personalized differences and quality of our products, LEAWOD has won unanimous praise from customers in Canada, Australia, France, Vietnam, Japan, Costa Rica, Saudi Arabia, Tajikistan and other countries. We believe that market competition must ultimately be a contest of institutional capabilities.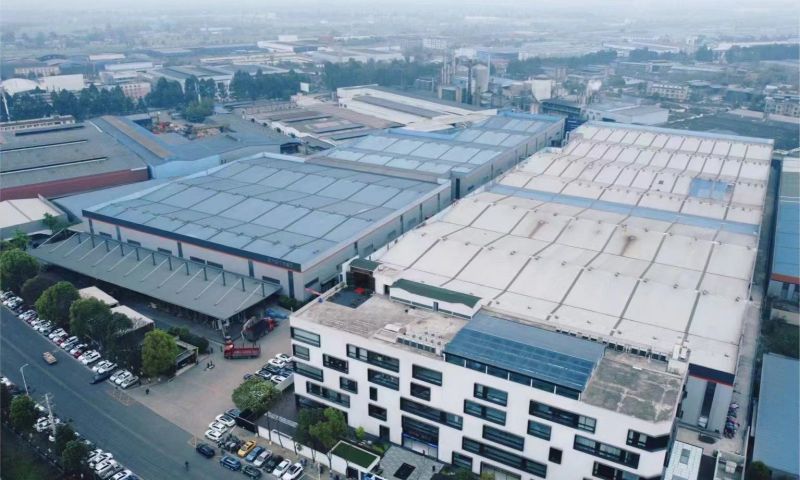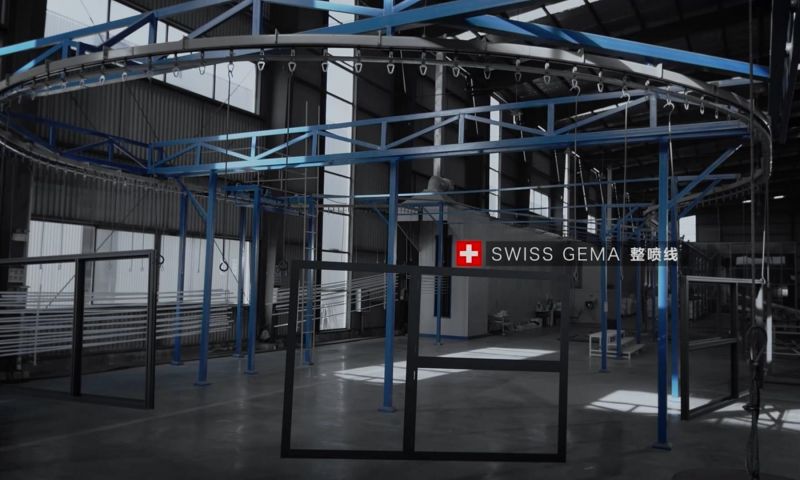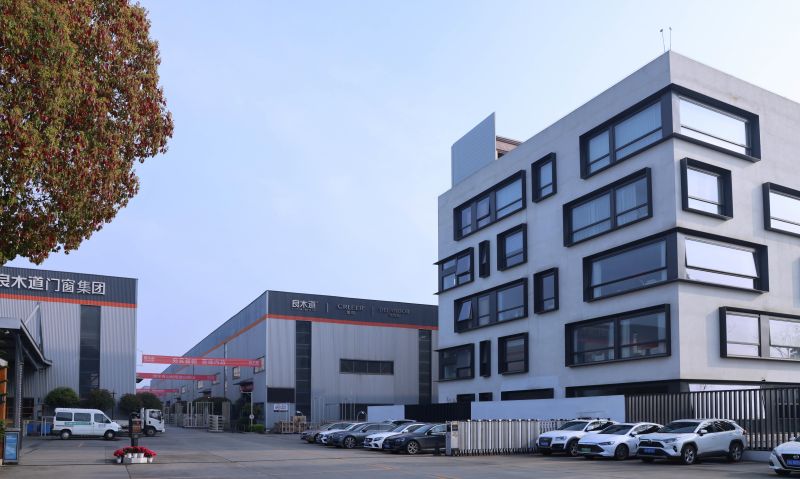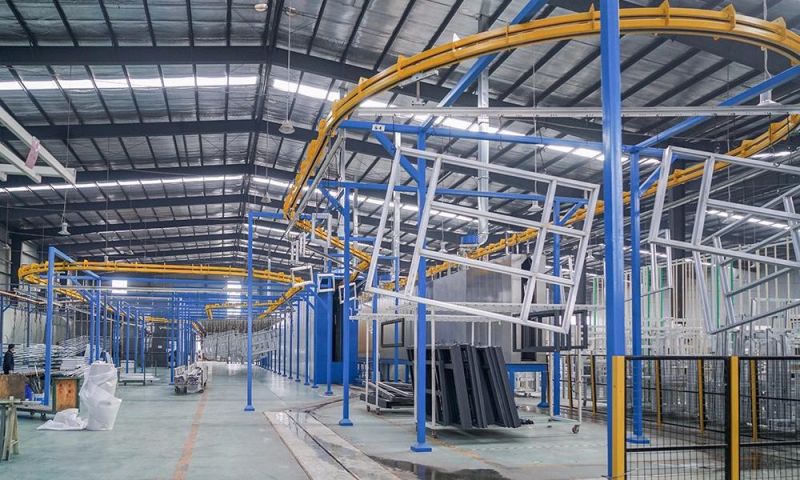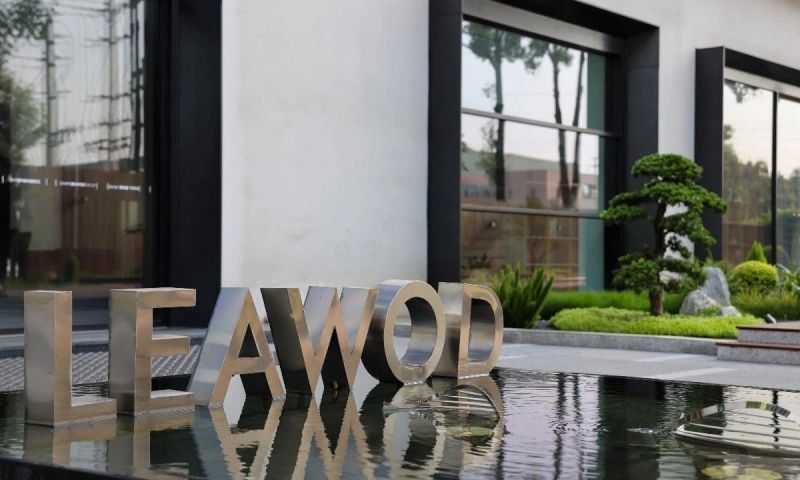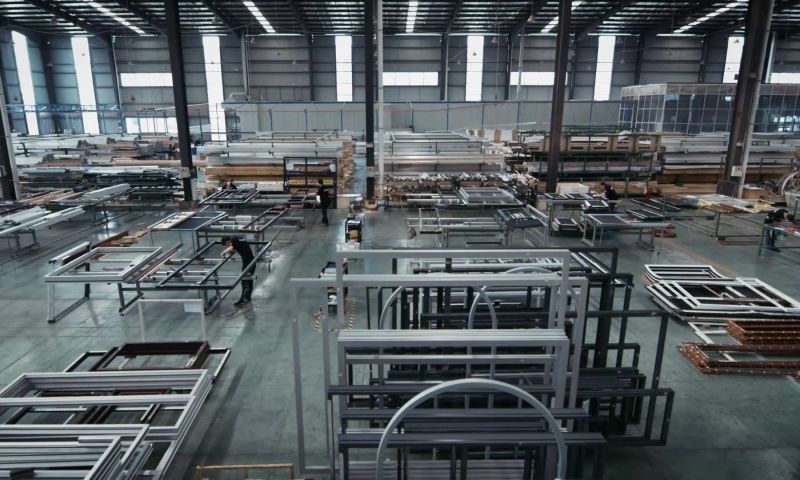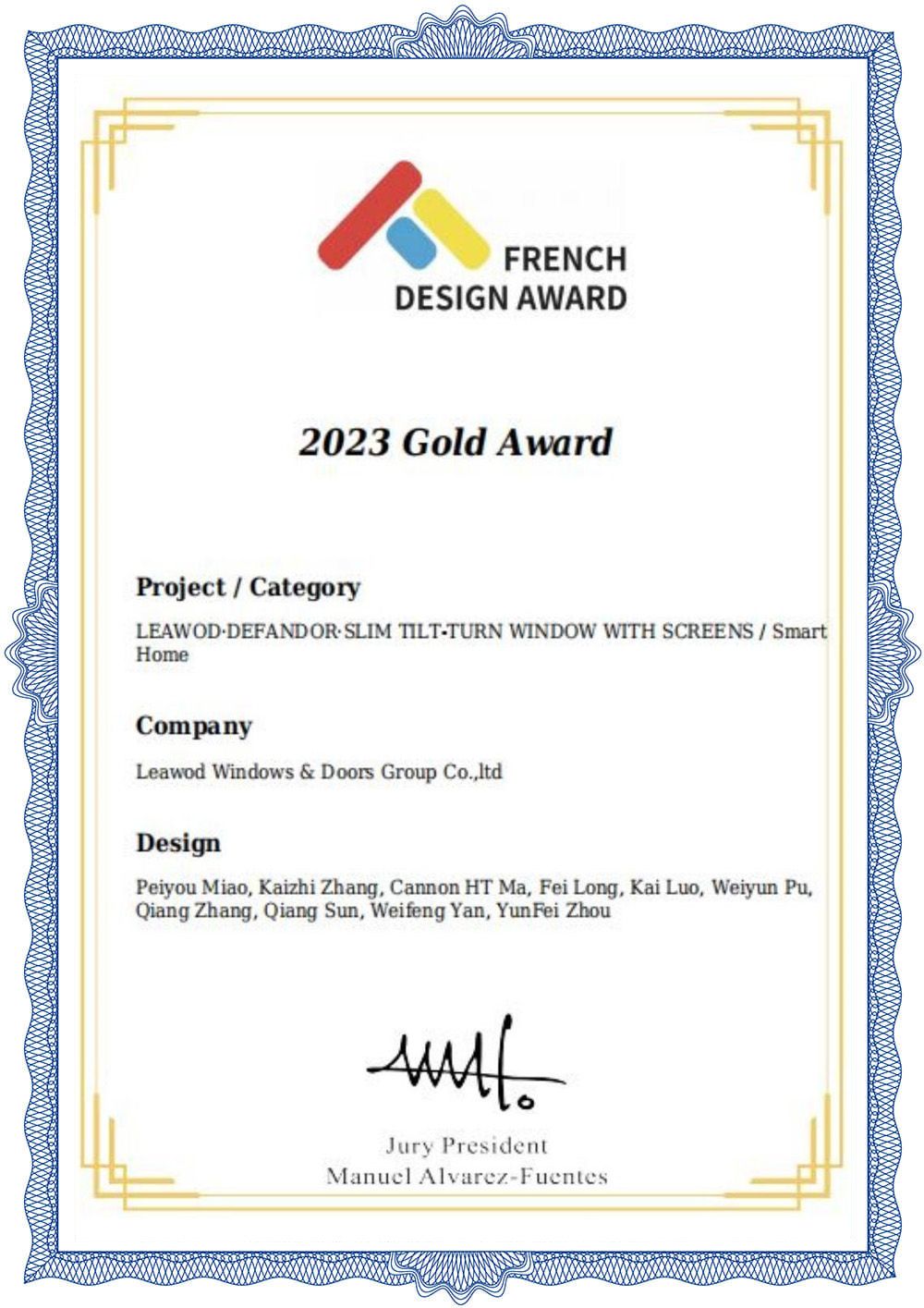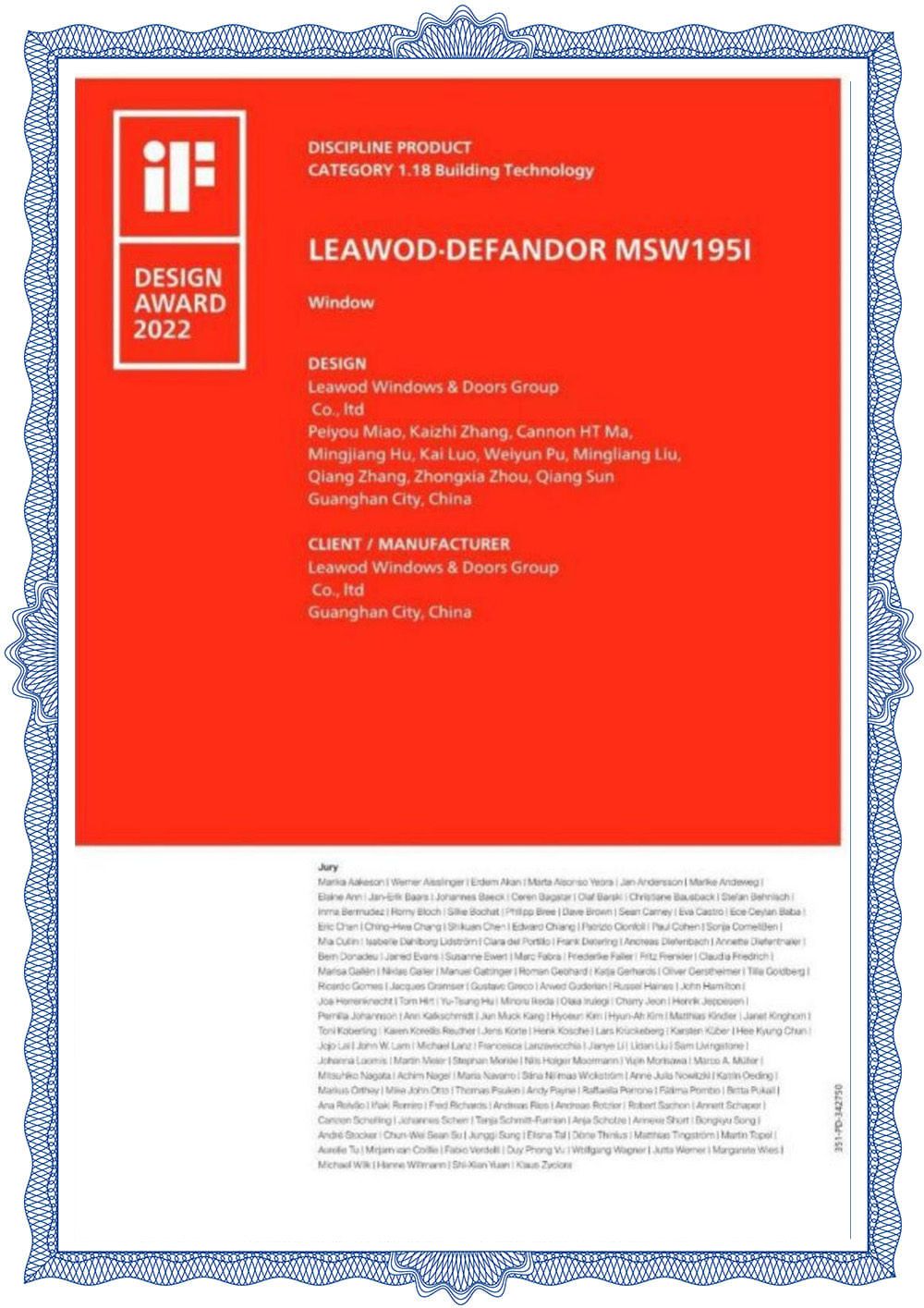 IF Design Award-Single Hung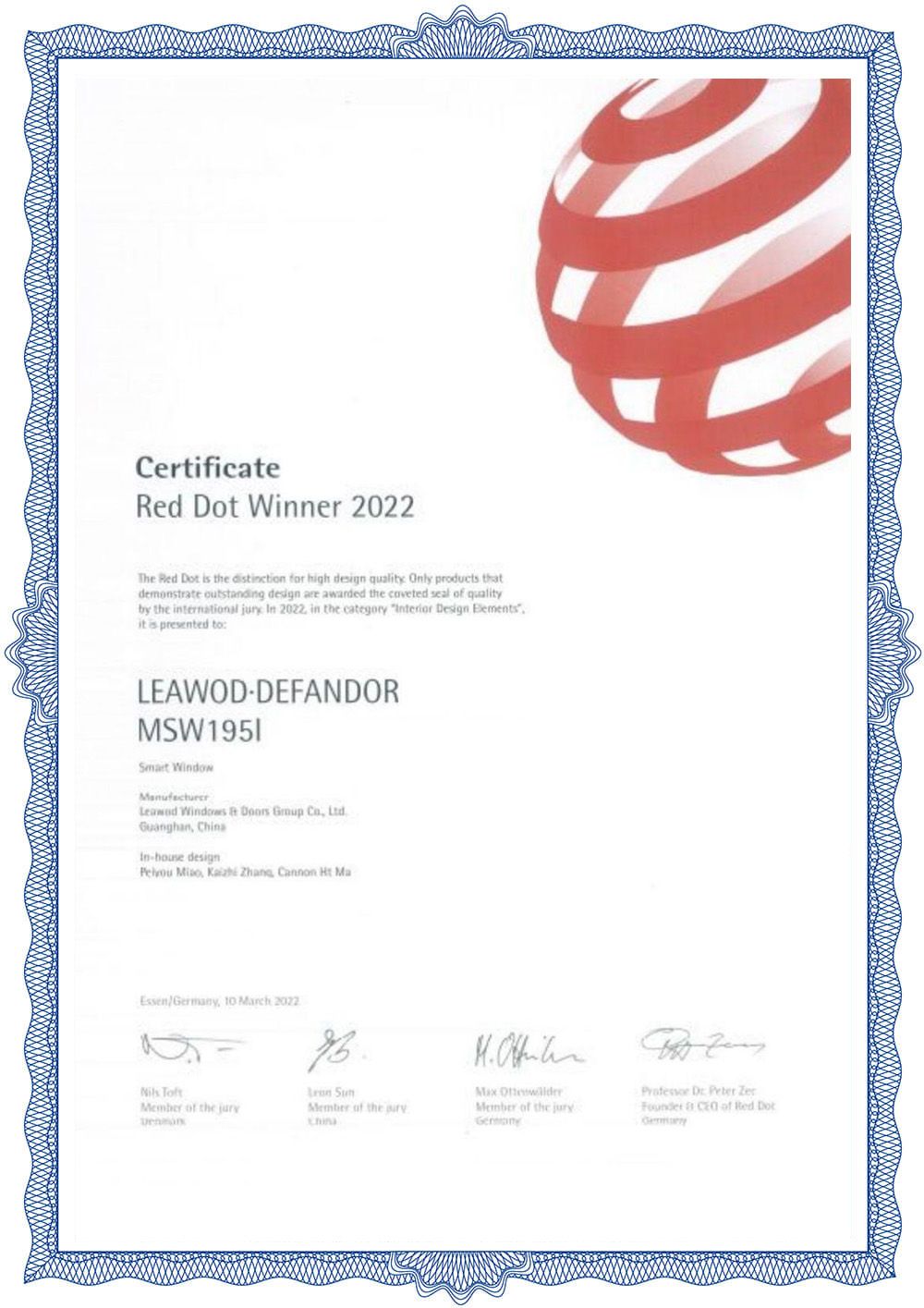 LEAWOD has the excellent R&D ability, in the R&D of windows and doors,whole welding, mechanical processing, physical and chemical testing, quality control and other aspects of the industry's leading level.
Since company establishment, we regard the quality of windows and doors as life, and constantly upgrade the performance of our products' function, appearance, differentiation, core competence of high-end windows and doors. At present, we are preparing to build a windows and doors laboratory for testing.
● The predecessor of LEAWOD company, Sichuan BSWJ company was established, based on the windows and doors engineering projects, processing and producing color aluminum alloy products


● Began to explore aluminum alloy window for brand franchise operation mode
● Sichuan LEAWOD Window and Door Profile Co., Ltd. was formally established, and began the production and manufacturing of profiles


● Developed the 1st generation of timber aluminum symbiotic windows and doors system
● LEAWOD's timber aluminum symbiotic windows and doors system won the national patent. Same year, LEAWOD participated in China (Guangzhou) International building & Decoration Fair, caused the industry shock
● The timber aluminum windows and doors system of LEAWOD became timber aluminum windows and doors system after the wood clad aluminum and aluminum clad wood windows and doors. Honor to take part in the industry recommendation meeting


● The new factory of LEAWOD Company was completed, who covered an area of 150,000 square meters, and the 1st phase workshop was 45,000 square meters, introduced dozens of sets of international advanced windows and doors production equipment. In the same year, LEAWOD company in Beijing, Shanghai, Guangzhou, Changsha set up branches and marketing centers
● LEAWOD company established brand operation center and finished window business division, determined the home decoration market as the development direction. In the same year, developed and distributed in almost 70 cities, more than 100 dealers and stores


● LEAWOD company began to explore the E-commerce platform, promote O2O closed-loop experiential marketing
● LEAWOD company carried out comprehensive reform based on the practice of E-commerce platform, took the lead in the implementation of the national unified pricing sales model


● LEAWOD company gained the Sichuan Provincial Major Scientific and Technological Achievements Transformation Demonstration Project, and was awarded the title of Sichuan Famous Trademark by the Provincial
Administration of Industry and Commerce. In the same year, we began to invite investment and join in us by LEAWOD brand for whole country
● LEAWOD company started a comprehensive VI & SI upgrading and building, more than 300 stores in the country at the same time updating, high appearance of international style caused a great response in the industry


● LEAWOD released R7 seamless whole welding technology, and funded more than 5 million US dollars for a comprehensive industrial upgrading, the windows and doors were promoted to the whole welding
● LEAWOD company was awarded the title of Sichuan Famous Brand Product by Sichuan Province
● LEAWOD company obtained Energy Saving Product Identification from Ministry of Housing and Urban-Rural Development.
● Red Star Macalline (the listed company in China and Hong Kong) strategically invested in LEAWOD company, L6 Customer Extreme Experience System was launched nationwide, and OCM Digital Factory was launched. In November of the same year, we got industrial land of 114,000 square meters, which will construct 4 windows and doors workshops with 3 floors per building, total 240,000 square meters. The constructions will be one of the largest manufacturing base for seamless whole welding windows and doors in Southwest China, we also will introduce more than 100 sets of international advanced equipment, the total investment of 50 million US dollars.


● Established the Intelligent Windows and Doors Doors R & D team of LEAWOD company, the first smart windows and doors was available at end of the same year
● LEAWOD was rewarded one of "The Top Ten Brands of China Windows and Doors" in the 3rd China household brand conference. At present, LEAWOD has nearly 600 high-end windows and doors stores in China...
● We invested 5 million US dollars to start the construction of windows and doors creative exhibition center, total 12000 square meters
● LEAWOD set up a branch in Houston, USA


● Carried on the group company brand strategy division, LEAWOD group includes: LEAWOD Timber Aluminum Composite Windows and Doors, CRLEER Aluminum Windows and Doors, DEFANDOR Intelligent Windows and Doors.
● Signed the Vietnam national general agent, and established the exclusive store, began to develop Vietnam high-end windows and doors market